OVER 40 PARTICIPANTS FROM 7 COUNTRIES
In the international poster competition "Blind Spots in the Street", more than 40 participants from 7 countries, including Togo, Cameroon, Namibia, Tanzania, Rwanda and Germany, have artistically dealt with the traces of German colonial history in Africa and the related anti-black racism in Germany.

As a public exhibition, we will present the award-winning works on billboards in downtown Kassel starting Aug. 31, 2021. The main prize goes to Patrice Youta from Cameroon. Three further prizes go to Anys Reimann, Viviane Messan-Lawson and Ray Noland, who all live in Germany.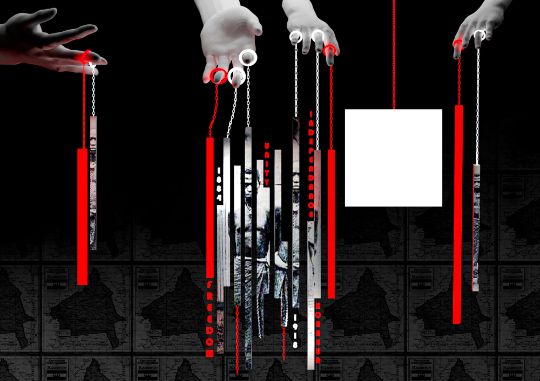 1. PRICE: Patrice Youta (Kamerun)
Titel: "The others are all from Germany"
Text to the submitted poster
Freedom
In this work, we want to present the history of German Cameroon from 1884 to 1918 which starts with the German-Douala treaty. This alliance between Cameroon and Germany was a step for the development of our country. We can see today railroads left, German houses in almost all the territory of Cameroon. Thanks to the international conference of Berlin (1884-1885) the borders of Cameroon are drawn and established. The Cameroonian people were proud to welcome the Germans in their territory, but some years later, a racial qualification was assimilated to the black skinned people. The Germans are called racists. Our black fathers, mothers, brothers and sisters were mistreated, chained, seen as a dumb people; made only to work. Thousands of Cameroonians were killed by hanging, imprisonment and shot without cold. The history is sad.
So in our poster we want to illustrate the German colonization in Cameroon and the racism that followed on the black people. Then we want to present the current state we live in through texts like FREEDOM, UNITY, INDEPENDENCE and others. Because thanks to the colonization to the colonizers Cameroon could be born. We would like to pay tribute to those who suffered for us.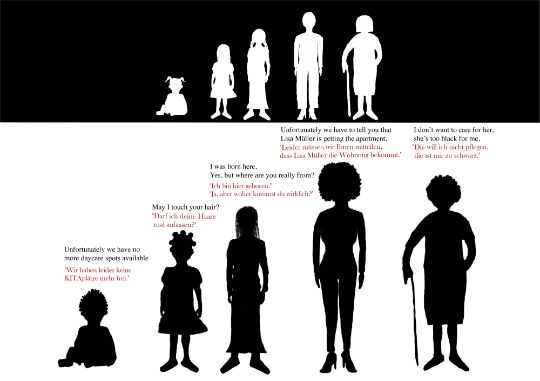 Merit: Viviane Messan-Lawson (Germany)
Titel: "Black and white confrontation of a woman living in Germany"
Text to the submitted poster
This picture is meant to show the difference of the life stages of a black as well as a white woman and the racist confrontations of a black woman living in Germany that come along with it. Whether one is born here and only one parent is from an African country or both parents. The micro and macro racism already starts with a baby in the hospital. My father is from Libreville in Gabon. For example, after I was born in the early 1990s, a family member of my German mother asked if my mother had left me in the microwave too long. It continues in kindergarten that others asked why I was so dark, with teachers who obviously discriminated against me to insults on the street - and all this in a very "diverse" big city. White people and people from Germany simply cannot understand these restrictions and consequences for those affected and should a fortiori not start discussions along the lines of "Whitelivematters" or "I am also sometimes called potato". Racism is painful and limits life enormously. This can be changed primarily by focusing on German-African history and through awareness and educational work, which should begin in kindergarten..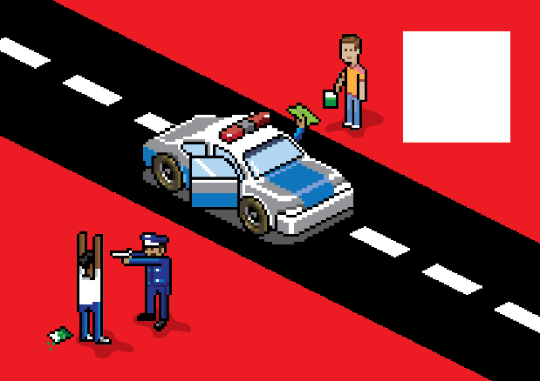 Merit: Ray Noland (Germany)
Titel: "Racial Divide"
Text to the submitted poster
Many in Germany don't see the need to compile data related to marijuana use / arrests based on race. They would argue racial profiling is banned in Germany, therefore this data would be unremarkable. That may be the case but, I would ask, why is the country afraid of its own statistics?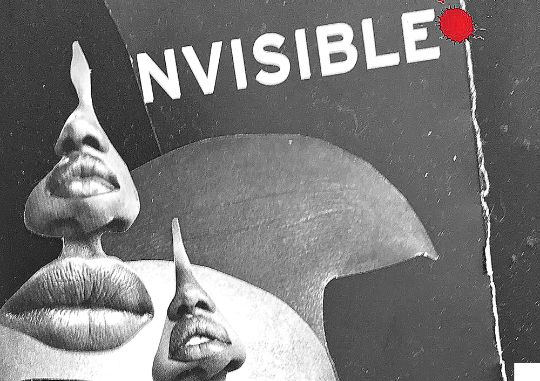 Merit: Anys Reimann (Germany)
Titel: "NVISIBLE"
Text to the submitted poster
Have you ever had the experience of being the only one among a majority of many? Felt how glances drive along your body? Your contours blur imperceptibly for the other? You become a part of the body, a biting laugh, a feeling of rhythm in the blood or even a projection surface? Comparable. Have you already countless hands through the hair and admired your complexion and at the same time one can see through you, overlook, look away? Imagine that you become what is attributed to you. You are the dark spot. Indescribable. You are so much, so much, and yet it seems so little. But you are more. Unquestionably.
Partners, Sponsors, Supporters
We would like to thank our partners, sponsors and supporters for their active support in terms of content and funding!

© 2021 All rights reserved by Blind Spots in the Sun | Henrik Langsdorf